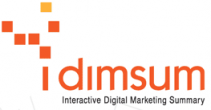 iDimsum – Interactive Digital Marketing Summary (Hong Kong Digital Marketing Creative Platform)
Hong Kong Association of Interactive Marketing (HKAIM) launched the Hong Kong Digital Marketing Creative Platform in 2012, with the funding from CreateSmart Initiative of Create Hong Kong. It aims to integrate information on Hong Kong's design and advertising resources for interactive digital marketing, and users to easily search for local digital marketing service providers and to facilitate the promotion of digital marketing industry in mainland and overseas. Digital marketing service providers are welcome to submit their company or personal information to be listed on the Platform. Please visit http://idimsum.hk for further details.

Hong Kong Social Media Consortium
HKAIM had organized a series of conferences on social media for marketers, agencies and end-users in 2009 & 2010 and had also conducted a Social Media Marketers Survey in 2009. Under the upward important trends of Social Media, HKAIM has gathered major marketers, agencies, bloggers and end-users to form a "Hong Kong Social Media Consortium" aiming at promote the ways of Social Media, and so as to maximize the power of Social Media in branding, product promotion and social networking in Hong Kong. For further details, please visit http://socialmedia.org.hk.
Member registration: http://socialmedia.org.hk/?page_id=50.

Silver Market Consortium
Cyber Senior Network Development Association 長者網絡發展協會 (Cyber Senior), established in 2001, is a self-sufficient non-profit-making organization with an aim of promoting the use of information technology for the elderly. A specialized portal (www.hk1001.com) was set up to provide various online services to elders, their families and professional bodies with up to over 22,000 online members.
Besides the website, Cyber Senior also provides tailor made computer training courses and produces teaching materials in different format such as booklet, VCD, etc. for the elders in Hong Kong. Cyber Senior successfully provides training over 20,000 man-times by a professional elderly training team and hundreds of corporate and young volunteers. For more details, please visit our website at www.hk1001.com
The Hong Kong Association of Interactive Marketing 香港互動市務商會 (HKAIM), which was officially founded in Sept 20, 2007, is non-profit making and political neutral. This is formed by a synergy of cross-disciplinary professionals and various groups of establishment that contribute to the growth of interactive marketing.
advertising industry in Hong Kong, aiming at raising the industry standard by sharing best practices and the latest industry developments to industry practitioners and users. HKAIM also liaises closely with Hong Kong and China Governments to enable the continuity of the professional development in the industry.
http://silver.org.hk