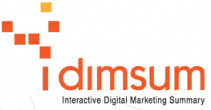 iDimsum – Interactive Digital Marketing Summary (Hong Kong Digital Marketing Creative Platform)
Hong Kong Association of Interactive Marketing (HKAIM) launched the Hong Kong Digital Marketing Creative Platform in 2012, with the funding from CreateSmart Initiative of Create Hong Kong. It aims to integrate information on Hong Kong's design and advertising resources for interactive digital marketing, and users to easily search for local digital marketing service providers and to facilitate the promotion of digital marketing industry in mainland and overseas. Digital marketing service providers are welcome to submit their company or personal information to be listed on the Platform. Please visit http://idimsum.hk for further details.

Hong Kong Social Media Consortium
HKAIM had organized a series of conferences on social media for marketers, agencies and end-users in 2009 & 2010 and had also conducted a Social Media Marketers Survey in 2009. Under the upward important trends of Social Media, HKAIM has gathered major marketers, agencies, bloggers and end-users to form a "Hong Kong Social Media Consortium" aiming at promote the ways of Social Media, and so as to maximize the power of Social Media in branding, product promotion and social networking in Hong Kong. For further details, please visit http://socialmedia.org.hk.
Member registration: http://socialmedia.org.hk/?page_id=50.

Silver Market Consortium
Cyber Senior Network Development Association 長者網絡發展協會 (Cyber Senior), established in 2001, is a self-sufficient non-profit-making organization with an aim of promoting the use of information technology for the elderly. A specialized portal (www.hk1001.com) was set up to provide various online services to elders, their families and professional bodies with up to over 22,000 online members.
Besides the website, Cyber Senior also provides tailor made computer training courses and produces teaching materials in different format such as booklet, VCD, etc. for the elders in Hong Kong. Cyber Senior successfully provides training over 20,000 man-times by a professional elderly training team and hundreds of corporate and young volunteers. For more details, please visit our website at www.hk1001.com
The Hong Kong Association of Interactive Marketing 香港互動市務商會 (HKAIM), which was officially founded in Sept 20, 2007, is non-profit making and political neutral. This is formed by a synergy of cross-disciplinary professionals and various groups of establishment that contribute to the growth of interactive marketing.
advertising industry in Hong Kong, aiming at raising the industry standard by sharing best practices and the latest industry developments to industry practitioners and users. HKAIM also liaises closely with Hong Kong and China Governments to enable the continuity of the professional development in the industry.
http://silver.org.hk
Capitol Building reopened after shots caused lockdown
Capitol Building. Capitol was lifted after about cheap jerseys two hours Saturday following a suicide by a man carrying a protest sign. No one else was hurt.
Capitol Police Chief Kim Dine said the wholesale jerseys man had a backpack and a rolling suitcase, triggering an hours long lockdown, and a sign that said something about "social justice."
Robert Bishop of Annapolis, Maryland said he was biking near the cheap jerseys steps of the Capitol when the suicide happened.
Bishop didn't witness the suicide but said there were about 60 people in the area, and that some of them did, including a girl and her mother who immediately began crying afterward.
Bishop said another witness told him and a police officer that the man who committed suicide held up a protest sign about taxation just before pulling the trigger.
No one was allowed to leave or enter the Capitol or the visitors' center during the lockdown on a busy day for tourists, and some streets around the area were closed.
During the lockdown, about a dozen police cars, black SUVs and an ambulance congregated at the bottom of the west steps of the Capitol, which overlooks the bustling National Mall.
Police appeared to take measurements as bomb squad members searched the area. Nearer the mall, visitors gathered around trying to figure out what was going on.
The lockdown came during Washington's cheap jerseys shop annual Cherry Blossom Festival, which attracts thousands of tourists during Washington's busy season.Articles Connexes:
New Look Among VMA Fashion Highlights K
Taylor Swift ditched her signature sundress for a sleek white suit and Nicki Minaj shocked in a replica louboutin too tight for TV red and black jumpsuit. Meanwhile, long sleeve mini dresses seem to be the latest fall fashion statement as many were spotted in similar looks. louboutin replica Here a look at the red carpet at MTV Video Music Awards.
Amber Rose made news on the red carpet before the VMA even started. Her and fianc Wiz Khalifa announced that they red bottom boots soon be parents and Amber looked stunning and very pregnant in a black lace number.
Meanwhile, Miley Cyrus, Ke$ha and Katy Perry followed in her footsteps (no, none of them are pregnant!) with different see through black lace numbers. Miley glammed it up in red bottom pumps an Emilio Pucci gown, Ke$ha ditched the eye makeup and Katy looked fabulous in an Elie Saab number with Jimmy Choo shoes. Who wore it best?
Ke$ha looked natural without her signature makeup and was one of many artists who rocked the long sleeve mini dress. She even designed it herself with the help of Ugo Zaldi! We thinking this is definitely christian louboutin replica a fall red bottom heels fashion to be on the lookout for.
Actress Zoe Saldana also showed off some leg in her pink long sleeved Salvatore red bottoms Ferragamo mini dress. But, we not too crazy about the dress. What do you think?
Another fashion trend we noticed were suits and jumpsuits. While Nicki Minaj showed off her assets in her trompe l jumpsuit and rhinestone covered Louboutins, Rita Ora looked classy in a black and silver number by Pucci with a little skin peaking through the black laced top. Accessorized with Christian Louboutin pumps and Cartier jewels, Rita trumped Nicki and rocked the jumpsuit look.
Taylor Swift looked all grown up in a fitted J. Mendel white pantsuit with a plunging neckline, Tom Ford sandals, and bright replica christian louboutin red lipstick. While her Kennedy beau was nowhere in sight, we have a feeling he approve.
So out of red bottom shoes all the fashion seen on the red carpet and at the awards show, who wore it best? Our vote is for Rihanna who looked elegant in a chic white gown from Adam Selman.Articles Connexes: