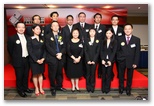 We would like to take this opportunity to thank you for your participation in the Hong Kong Association of Interactive Marketing (HKAIM ) Inauguration Ceremony held on Sept 20, 2007. Without your involvement our event will not be as meaningful as such. Hope we will have your continuously support in our future events too.
And you are cordially invited to join HKAIM us as corporate / personal member, not only you will stay close to the latest development of the industry, but you will also have chances to know more people across the IT & Marketing industry, enjoy our networking events with icons of the industry and important government officials, etc. Also w e are going to held periodic training, seminar, luncheon, networking, etc. The upcoming one will be the e+m Business Solution Day 2007 jointly organized by HKAIM and HKPC. See the following website for more detail:
You are welcome to visit our website at
http://www.hkaim.org
for more details and check on the latest activates that we are going to organize. And o
nce again, thank you very much for your great support to HKAIM and we are looking forward to seeing you soon in our upcoming events.
Francis Fong (FCIS, FCS, FHKCS)
Hong Kong Association of Interactive Marketing (HKAIM)