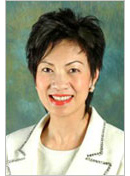 Ms. Marisa Kwok: "I wish to extend my heartiest congratulations to the Hong Kong Association of Interactive Marketing (HKAIM) on their inauguration. I feel privileged and am delighted to contribute to this meaningful initiative as an honorary advisor Weihnachten Inflatables.
Hong Kong has the enviable position of being a world class showcase for deployment of technology and marketing practices that enable business success and quality lifestyle. There is opportunity to exploit breakthrough benefits with the adoption of an integrated perspective and approach by industry practitioners.

Market opportunities are borderless and timeless. Effective marketing is challenged by timeliness and relevance.  Consumers enjoy global mobility; their behavior is becoming characterized by instantaneity. Customer loyalty is driven by respect for privacy and intimate knowledge of the customer all at once.
With the formation of HKAIM, the executive committee members have created a useful platform for industry leaders and professionals to share ideas and proliferate best practices. In the process, sustainable development can be achieved through consultation with practitioners, authorities and consumers. HKAIM can thus become an effective and direct communication bridge to balance the interests of all parties. With an informed community, industries and consumers can each play its part in creating the value and contribute to the success of interactive marketing.
I commend all the members of HKAIM for contributing their valuable time and knowledge for the advancement of interactive marketing. I wish the association tremendous success and enjoyment in the process."